Designed to Please
No matter how large or small your planned catered event, The Kitchen's catering menu is designed to please. Choose from party fare to main dishes, salads, desserts and beverages. We strive to use seasonal, mostly organic, locally sourced ingredients.
Prices are for food only, presented on your serving pieces.
Party Fare
Each item listed will generously serve up to 10 people. Platters and serving utensils are available for rent; please see our catering information page.
Antipasto platter – $161.00 – Artisanal cheeses (see Cheese Plate in the desserts section for a sampling), a selection of seasonal raw, roasted, and marinated vegetables, assorted olives, rice crackers, baguettes and crostini, with a spread of your choice:
Beet with orange zest and roasted garlic
Mushroom mince with garlic, cilantro, and sesame oil
Hummus – garbanzo beans, tahini, lemon, garlic
Carrot with caramelized onion and toasted cumin seeds
Artichoke with capers and lemon
Spreads can be purchased separately – $39.00 each for a scant quart with rice crackers, baguettes and crostini.
Dungeness Crab Cakes – $143.75 for 30 cakes – Fresh crab seasoned with a blend of Southeast Asian aromatic herbs and spices and served with your choice of the following sauces: citrus-garlic, Thai-chili-basil, or coconut-curry.
Salmon Cakes – $116.00 for 30 cakes – Made with fresh locally caught salmon. Seasoned and served as above.
Fresh Salmon Paté – $58.00 for a scant quart – Our fresh local salmon combined with minced cucumber, green onion, fermented black bean, preserved lemon, and yogurt.
Paneer – $46.00 for 30 chunks – House made East Indian-style fresh cheese seasoned with herbs and spices, cubed and pan-fried. Served on a bed of curried greens.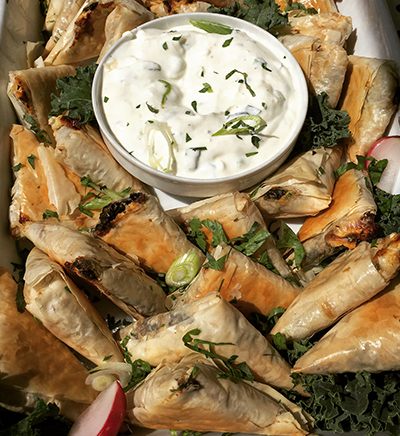 Filo Triangles – $69.00 for 30 – Layered with curried vegetables and farmer's cheese, cut into triangles. Served with a cucumber-yogurt sauce.
Szechuan Pork(spicy)-filled mushrooms – $69.00 for 30 – Local pastured ground pork seasoned and stuffed into a crimini mushroom.
Nori Rolls – $55.00 for 40 pieces. All rolls have wasabi and sesame seeds inside; comes with ginger wasabi soy sauce. Choose from the following:
Seared Ahi Tuna with cucumber and scallions
Salmon salad with red bell pepper
Marinated fried tofu with mixed vegetables.
The Kitchen Vegetables – $74.75 – A dazzling combination of seasonal sautéed and blanched mixed vegetables from our local farmers. Garnished with fresh herbs.
Skewers – 30 skewers served with a choice of sauce (see listing under main dishes) priced as indicated:
Wild prawns – $96.00
Local pastured pork balls – $76.00
Local beef sirloin strips – $76.00
Breast of free range chicken – $66.00
Tofu and vegetable – $56.00
Sticky Rice Cakes – $78.00 for 30 – These delicious cakes are stuffed with spiced yam, dipped in black sesame seeds and pan seared. Served with peanut-lime-miso sauce.
Mini Sandwiches – $114.00 for 30 sandwiches – Vietnamese-inspired filling of mushroom mince, roasted spiced yam, napa cabbage, roasted red onion, hot & sweet peppers, cilantro, mustard, and mayonnaise on sliced baguettes.  
Main Dishes
Build a main dish choosing from the following suggestions. Prices are per person and include your choice of rice or noodles, seasonal vegetables and sauce. Our meats, seafood, and tofu are locally sourced. We season and bake or stir fry them using organic safflower oil.
Locally caught salmon – $45.00
Halibut filet – $51.75
Wild prawns – $44.25
Local beef sirloin – $40.25
Breast of free-range chicken – $32.50
Wildwood organic tofu – $27.50
Organic tempeh – $35.50
Add one of the following:
Steamed brown or white rice
Udon buckwheat soba, or rice noodles
Mixed roasted Chieftain red and Yukon Gold potatoes and garnet yams
Dirty rice – mixed white and brown rice with herbs and seasoning, add $1.50 per person.
Includes best of season vegetables. Add sauce:
Teriyaki
Sweet and spicy Szechuan
Peanut-lime-miso
Citrus-garlic
Ginger-wasabi-soy
Chinese garlicky black bean
Coconut-curry
Salads
The Kitchen Salad – $4.00 per person – A salad of fresh, local, organic greens and vegetables. Tossed with sesame vinaigrette or creamy (non-dairy) lemon-garlic dressing.
Roasted Potato Salad – $4.50 per person – Mixed roasted potatoes, capers, preserved lemon, parsley, safflower oil, green onion.
Cabbage Slaw with seasonal vegetables and sesame honey mustard dressing – $4.50 per person
Vietnamese Style Pasta Salad with cellophane bean threads – $4.50 per person  
Bread and butter – $2.50 per person – Warmed baguette with whipped organic butter.
The Kitchen Desserts
Coconut-Rice Pudding – $3.50 per person – a creamy concoction of white rice topped with toasted coconut and slivered candied ginger.
Chocolate Sheet Cake – $5.00 per person – A flourless, rich, moist cake.
Cupcakes – $5.50 per cupcake – Assorted flavors; decoration on top is seasonal:
Chocolate on chocolate
Vanilla raspberry with cream cheese or chocolate frosting
Spiced cake with cream cheese frosting.
Fruit Crisp – $6.00 per person – The best of our fresh seasonal local organic fruit topped with whipped crème fraiche.
Cookies – $15.00 per dozen – Bite-sized versions of our famous cookies: chocolate-ginger, Chinese-almond, sesame benne, or peanut butter with black sesame seed (gluten-free).
Cheese Plate – $70.00 with crackers/$75.00 with sliced baguettes – will serve 10 people generously. A selection of the following:
Sharp cheddar from grass-fed cow's milk
Rogue River Oregon gorgonzola-style bleu cheese
Morbier – semi-hard French buttery cheese
Fresh local chevre (goat cheese)
Beverages
Costs are per person.
French-roast coffee with cream and sugar – $2.25
The Kitchen's famous house-made drinks:
Seasonal lemonade – $3.25
Chai tea blend made with organic rice milk and sugar – $3.25
Spicy organic lemon-ginger tea – $3.25
Flavored ice water – a glass decanter is available for rent. Choose from the following flavors:
Lemon – $1.15
Lavender – $1.15
Cucumber – $1.15
Seasonal flavor – please ask – $1.15
In addition, we offer bartending service and specialty mixers upon request.