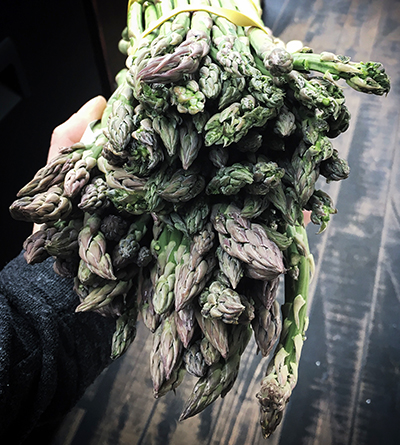 Our Philosophy
Established in 1998 on Orcas Island, The Kitchen's priority is to support family, friends, our community and the local food economy. Owners and Co-Chefs Charles Dalton and Jasmine Townsend buy from local producers, purchase organic ingredients, make it here on Orcas, and keep it simple and fresh.
And because we want you to be able to find healthy, fresh food handmade to your unique needs, we offer gluten-free and a full range of dietary-sensitive options.
We support cottage industries and access ingredients from local farmers, fishermen and vendors who help us connect with organic farmers and whole food manufacturers throughout the Northwest and beyond.
We strive to reduce our environmental impact and to close the loop. We recycle and compost almost everything including all of our paper goods and wooden utensils. We've banished bottles and cans and now make our own soda water. Food waste is fed to the pigs at a neighboring farm, helping to raise the same locally pastured pork that ultimately will be served with spicy Szechuan sauce. Incredibly this leaves us with just one household-size garbage can of "no hope" waste per week to send to our transfer station, even during peak season.
In fact, the Orcas Island Chamber of Commerce praised our sustainable practices by recognizing The Kitchen with its Environmental Excellence Award.
Our business community includes:
Black Dog Farm
Blue Moon Produce
Boulder Haven Farm
Dickerson Distributors
Doe Bay Wine Company
Dog Island Mushrooms
Island Hoppin' Brewery
Island Market
Maple Rock Farm
Mekong Grocery
Meyer's Creamery
Mikuni Wild Harvest
Morning Star Farm
Office Cupboard
Orcas Farm
Orcas Food Co-op
Peace & Plenty Flower Farm
Puget Sound Food Hub
San Juan Transport
Sysco
UNFI
West Beach Farm